Versatility of general admin virtual assistants
Our general admin virtual assistants are not locked into a rigid job description. Instead, they can adapt to perform various administrative functions. Whether it's data entry, email management, appointment scheduling, document preparation, or any other administrative task, our virtual assistants can handle it.
Customized to your business
Every business has its own administrative workflows, tools, and systems. Therefore, we have ensured our general admin virtual assistants can be molded into the ideal administrative support you need. Whether you run an e-commerce store, a law firm, a healthcare practice, or any other type of business, we'll tailor our general admin virtual assistants to suit your needs. They can be trained to match your unique business processes and, hence, easily integrate into your operations.
Benefits of using admin virtual assistants
Cost-Effective: Hiring and training in-house administrative staff can be time-consuming and expensive. Instead, with our general admin virtual assistants, you can save on recruitment and training costs and ongoing employee benefits. Our virtual assistant packages for general admin tasks offer one of the lowest rates and most client-friendly terms.
Flexibility: You can scale your administrative support up or down as your business needs change. This is because whether it's a part-time assistant or a full-time team, we meet your needs.
Efficiency: Our general admin virtual assistants can handle administrative tasks efficiently, therefore allowing you to focus on other priorities.
Access to Specialist Skills: Gain access to our wider network of freelancers with specialized skills. Whether you need assistance with content writing, social media management, research, website development, e-commerce tasks, or specialized administrative services, we have the general admin virtual assistants help you find and work with third-party freelancers and vendors.
24/7 Availability: Depending on your needs, we can set up your general admin virtual assistants team to provide round-the-clock support, hence your business never misses a beat, no matter the time zone.
Remote extension of your in-house team
Consider us as an extension of your existing team. By outsourcing administrative tasks to our general admin virtual assistants, you gain a strategic advantage. Your business becomes more agile, efficient, and hence more capable of adapting to changing circumstances.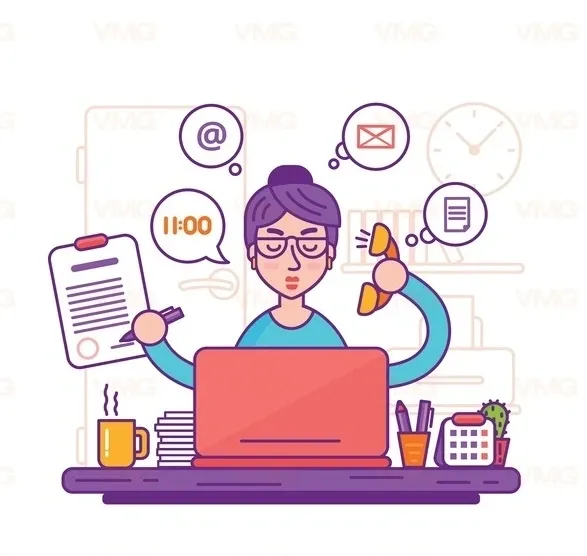 Simplify Your Schedule: Outsource These Time-Consuming Admin Tasks
Administrative support tasks encompass a wide range of duties that assist in the smooth operation of an organization or business. These tasks are typically non-core functions that support the overall functioning of the business. Some common administrative support tasks that you should consider getting done through virtual assistants include:
Data Entry: Inputting and managing data in spreadsheets, databases, and other software tools.
Email Management: Organizing, responding to, and archiving emails.
Calendar Management: Scheduling appointments, meetings, and events for individuals or teams.
Travel Arrangements: Booking flights, hotels, transportation, and managing itineraries for business trips.
Document Preparation: Creating, editing, formatting, and proofreading documents, reports, and presentations.
Filing and Document Management: Organizing and maintaining physical and digital records.
Phone Handling: Answering calls, taking messages, and directing inquiries to the appropriate individuals or departments.
Customer Service Support: Assisting customers with inquiries, complaints, and issues.
Billing and Invoicing: Creating invoices, tracking payments, and managing billing records.
Expense Reporting: Recording and tracking expenses incurred by employees for reimbursement.
Order Processing: Managing orders, including order entry, tracking, and fulfillment.
Office Supplies Management: Ordering and maintaining office supplies and equipment.
Meeting and Event Planning: Coordinating and organizing meetings, conferences, and special events.
Correspondence: Drafting, proofreading, and sending business letters and correspondence.
Basic IT Support: Assisting with minor technical issues, such as password resets and software troubleshooting.
Research: Conducting internet research on various topics to gather information.
Database Management: Updating and maintaining databases of contacts, customers, or inventory.
HR Support: Assisting with tasks like job postings, applicant screening, and employee onboarding.
Social Media Management: Scheduling and posting updates on social media platforms.
General Administrative Assistance: Providing overall support to executives, managers, or teams as needed.
How it Works
Getting started with our general admin virtual assistants is a straightforward process:
Consultation: We begin by understanding your business needs, goals, and specific administrative requirements.
Tailoring: Based on the information gathered during the consultation, we will shortlist virtual assistants most suited for your tasks. These could be from the active pool of virtual assistants who are already on our team or a fresh outside hire. It is possible for you to also interview the candidates.
Integration: The virtual assistant joins your existing team in your daily operations, ready to handle administrative duties.
Dedicated Supervisors: The virtual assistants will internally report to our supervisors. Our supervisors are there to ensure smooth workflow and no communication gaps, hence ensuring the service is being delivered as service as promised.
Flexibility: As your business evolves, we adapt to your changing needs, providing additional training or scaling the team as required. Hence we are a very flexible service provider to work with.
Time is your most valuable asset – Reclaim It.
In a fast-paced business world, time is your most valuable asset. Our general admin virtual assistants are here to help you reclaim it. By partnering with VMG, you can delegate your administrative tasks, reduce overhead costs, and refocus your energy on what truly drives your success.
Contact us today to learn more about the virtual assistant packages for general admin tasks.
Useful resources:
The Case for Executive Assistants – Harvard Business Review